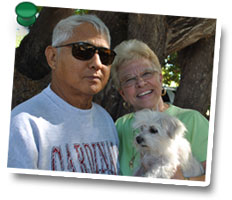 Since  2011 Jule Kamakana has operated the Kamakana Country Store on her husband, Weymouth's, homestead in Kalamaula. Over the years the inventory has changed but the spirit of Aloha stays the same.
Currently, Jule focuses on bringing in a variety of orchids on a regular basis. Inside the store you will find a few new items and a small thrift shop from which the proceeds are donated back to her church community.
For more information about current inventory call Jule at 808-553-5725.
E komo Mai… Come on in! Our hours vary, you can always call ahead
808-553-5725
to check if we are in. Or, anytime you see our sign at the corner of Maunaloa Highway and Kahanu Street we are open for business. Stop in to see what's new in our ever changing inventory.
I receive plants regularly and have special orders coming in weekly!  
What do you need?
I can bring in Jade plants, gardenias, hybrid hibiscus, succulents, cacti and many more!
We love happy customers and happy plants! If you are planning a trip and want someone to look after the orchids you purchased from us, then bring them by. We'd be happy to keep an eye on them while you are away. And, although we can't always promise positive results, if your orchid is struggling bring it back and we will attempt to revive it. If it doesn't make it, we will provide a nice discount on your purchase of another!
Stocked by donations from church members, we offer a changing variety of antiques and thrift store items. All proceeds from the thrift shop are donated to Grace Episcopal Church in Ho'olehua.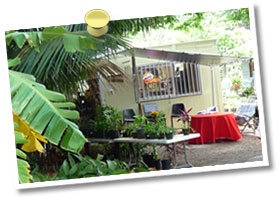 Kamakana Country Store is located in Kalamaula, a section of Molokai that has deep roots for Hawaiians! It is the area where the first "Homestead Lands" were created in 1920 in an act that set aside land to help the Hawaiians maintain traditional ties to the land and to be able to grow traditional crops such as kalo (taro).
William and Edith Kamakana were among the first to be given this land. They built a home, raised two children and used the land by planting the now famous Haden mango, plus about 10 other mango varieties. He also planted many different crops to eat and raised cattle, pigs, chicken and horses.
In the 1960s Weymouth Kamakana returned to his land to help his father care for the property. He continued his father's advice… "plant things that will feed you!"
Today, the land supports a citrus orchard, papaya, banana, lychee, coconut, pineapple, ulu, herbs, a recycled garden with whatever is growing in season, and the always favorite, mango!
This then, is the backdrop for the Kamakana Country Store.