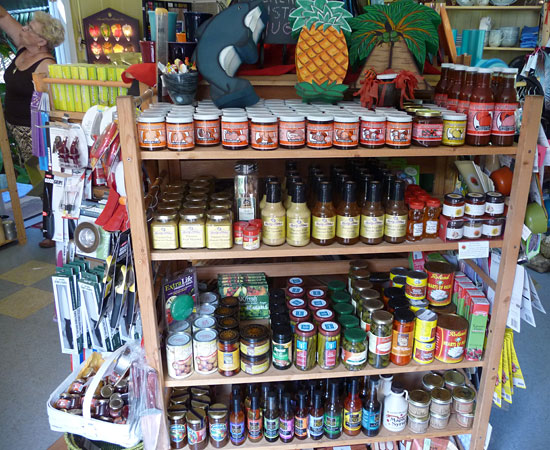 Hawaii Jams & Jellies

Maui Up Country Jams, Jellies and Sauces - Years ago, Maui Upcountry Jams and Jellies originated as a hobby in a small kitchen where they made preserves from fruit (lilikoi, papaya, strawberry guava) growing on their farm for family and friends. This blossomed into the full line of taste tantalizing products we carry today.

Oils of Aloha Since 1988, Oils of Aloha has manufactured top-quality natural oils from botanicals grown throughout the Hawaiian Islands. Utilizing a minimal refining process, Oils of Aloha 's Kukui and Macadamia Oils are expeller pressed (natural extraction without chemical solvents) to maintain the optimum quality and purity of the oil. In the early 1990's, Oils of Aloha took a bold step forward and began blending traditional Hawaiian oil knowledge with the latest technology. Through more than a decade of discovery, Oils of Aloha's proprietary processes have pinpointed many things - everything from how oils benefit skin to why they are great for cooking - but the overall concept remains the same: oils that offer the best of science and the best of nature.

Mustard, Dressings & Jellies - Our mustards, dressings and jellies are some of the best that can be found throughout the state. From Molokai Meli honey to Aunty Lilikoi's on Kauai we've scoured the islands for the best flavors they have to offer and present them to you here. Give us a call and we can help you decide which ones you want to send home.

Hawaiian Kine - Hawaiian Kine Seasonings and Sauces is a family-run business in operation since 1989. All of their Hawaiian Seasonings and Sauces are natural and they do not use MSG or preservatives in their products! Their Hawaiian Seasonings and Sauces are freshly made and processed by hand. They provide you with unique, tasty, quality Hawaiian seasonings and sauces for your enjoyment! You'll become a gourmet island chef in no time with their simple-to-use, Hawaiian Seasonings and Sauces.