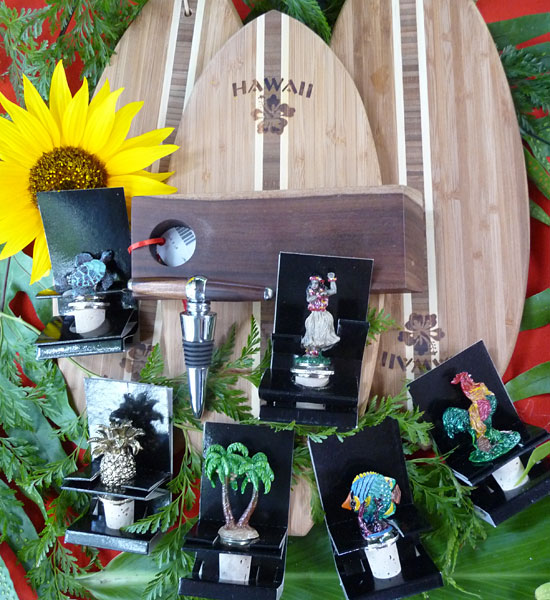 Surf Cutting Boards and Wine Stoppers
Bamboo Surf Board Cutting Boards
Handcrafted using flattened bamboo strips which are laminated using non-toxic food grade adhesive. Through a very specialized heating process, the natural sugars in the bamboo are caramelized, producing the beautiful honey color. This color is permanent and will not wash off.
#3080 Small 14.5"x6" - $19.00
#3590 Large 23"x7.5" - $27.50
Wine Stoppers #170
You choose how to bring the party to end by capping the wine with one of these adorable corks - Hula Girl, Rooster, Fish, Palm Tree, Pineapple and more, ask for a description of the current selection when you call. $16.00
Milo Bottle Stopper and Cork Screw #271
Beautiful, hand made on Molokai, bottle stopper and cork screw combination. $25.00
Milo Wood Wine Bottle Holder #1961
Simple, elegant wine bottle holder, hand made on Molokai out of milo wood. 8"x3" - $12.50