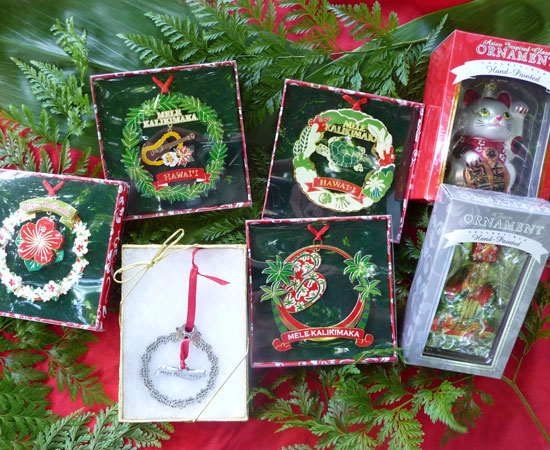 Christmas Ornaments
A variety of our ornaments are pictured above. Please call for an updated description of any new arrivals. We can help you mix and match an assortment for your tree. These collectible ornaments are also perfect to use as a package topper for that special gift.

Island Heritage - Wreath Ornaments #2914
Choose From "Mele Hibiscus", "Ukulele Lei", "Honu", "Mele Slippers" or "Palm Tree" (not shown). A beautiful way to brighten your tree or send holiday wishes to friends and family with these hand-painted Metal Die-Cut Hawaiiana Christmas Ornaments. $10.00 ea.

Pewter Wreath With Molokai Cut Out #5362
What a great way to remember Molokai or send a little piece of home to someone on the mainland. $15.00

Island Heritage - Collectible Glass Ornaments #1674
Choose from "Maneki Neko" (Lucky Cat) or "Ukulele - Holiday Palm". Start a tradition collecting these hand blown, hand painted ornaments. $10.00 ea.